Reflections, feedback and review of GMS6907 (FY2022)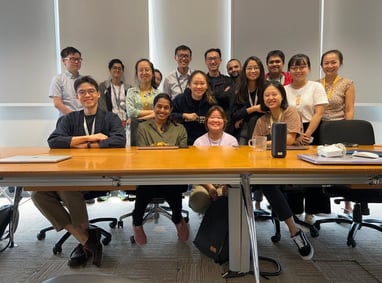 It has been a thrilling experience designing, coordinating, conducting, and mentoring the module GMS6907: Applied Bioinformatics and Omics Data Analysis. A total of about 20 participants signed up for the module, including PhD students, research assistants, clinicians, and post-docs. In my opinion, the most challenging part was to deliver an appropriate amount of content to cater to those who have completely no bioinformatics background, and to those who already have some basic knowledge. This also made assessment of students difficult, as it was a steep learning curve for some students without coding background. In addition, the other challenge I faced is that different individuals have laptops with different specifications and operating systems, so some Python libraries could work well for some but not others. Fortunately, I had help from Clara Koh and Justin Ooi, who were instrumental in troubleshooting and providing advice when the students had doubts.
Despite these challenges, it was satisfying to see that the attendance rates were good throughout the 10-week course and students were actively participating in classes. It was also rewarding to see the students apply what they have learnt in class into their research data. Most impressive to me was that the students were able to make useful webtools using Streamlit that could be potentially used for their research! Overall, despite my first attempt, it was a gratifying experience, and I was happy to have influenced a small group of individuals to appreciate the potential role of bioinformatics in their research.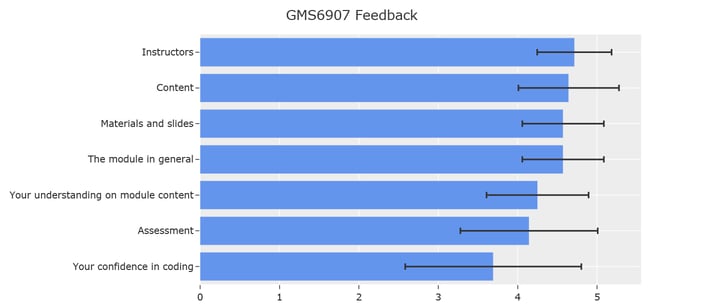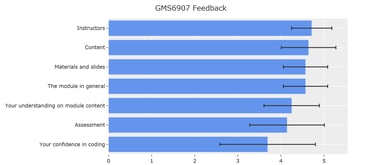 To improve the learning experience for future students, I conducted a short feedback survey on their personal opinions and ideas on how the module can be improved. Overall, the ratings for the instructors, content, materials and assessment received high ratings of more than 4 (out of 5). Perhaps, we will need to work on developing more introduction on fundamental concepts and provide more coding exercises for the students so that the students are more confident in using Python.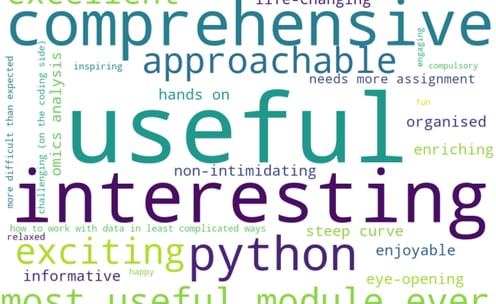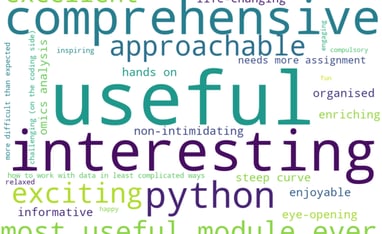 From the feedback, participants have found GMS6907 to be useful, comprehensive, and interesting. There were also some who felt the module challenging and exciting, which can be potentially circumvented by providing more information on the fundamental concepts in the future. I am also glad that they have found the instructors approachable and not intimidating.
Overall, the module was an eye-opener to many students, and I also had much fun teaching and learning from the students. Hoping to be able to conduct this course next year around the same period so stay tuned!